As a solo performer....
Taber Darland (formerly Amber Darland) has been performing regionally and nationally since 2004.
Their intensely personal music has the passion reminiscent of Patty Griffin, Lucinda Williams and Shawn Colvin and the 
soulfulness of k.d. lang, the Carpenters and Dar Williams. 
Darland is a master at making the simple, evocative. 
In July 2009, Taber released their third studio recording and debut full length album "Truce".  Songs from this album took Taber on tour across the country and in October 2009, they were named winner of the 2009 North Carolina Songwriter's Coop Song Competition. With their newest release, "There's a Calling", Taber Darland delivers their most authentic performance yet. With pure vocals and heartFULL lyrics, Taber's performance is sure to stir your soul. 
Taber Darland has shared the stage with: 
Mary Gauthier 
Catie Curtis 
Cris Williamson
Ferron 
Tret Fure 
Laura Love 
Bitch 
Adrianne 
Sweet Talk Radio 
Heather Mae
Chuck E. Costa 
Chris Pureka 
Sarah Sample 
Coyote Grace 
Jean Mann
Nedra Johnson 
Jenn Todd
Taber Darland is available for booking as a supporting artist or headliner for shows and special events (including dinners, weddings, memorials, birthday parties, etc)
For inquiries, contact: taberdarland@gmail.com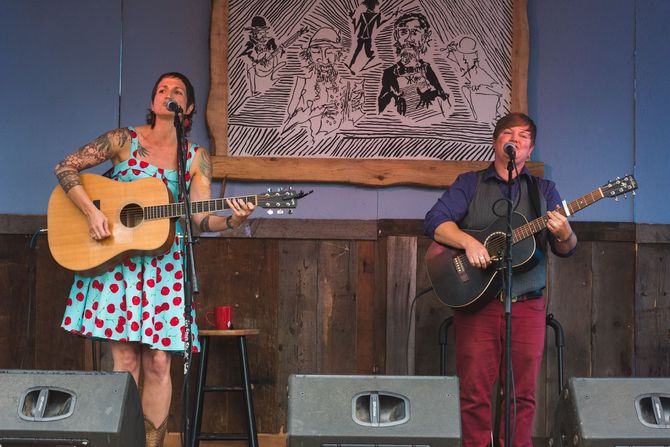 As a collaborator...
Amber Darland is one half of the Bellingham, Washington based folk duo, The Sweet Goodbyes. 
Amber Darland and Lisa Harmon have been performing individually throughout the Pacific Northwest for many years. In the spring of 2015, the two Bellingham based singer-songwriters discovered a kindred voice in each other and decided to launch the folk duo, The Sweet Goodbyes. This collaboration has revealed strength beyond the sum of its parts. With intricate melodies, weaving harmonies and lyrics that are both political and deeply personal, The Sweet Goodbyes offer their audiences a chance to witness something rare. Amber Darland and Lisa Harmon wear their hearts on their sleeves and together their voices blend flawlessly. You can't help but feel good when you watch this duo perform live. The Sweet Goodbyes are full of charm and talent - sure to prick the ears and put a shiver up the spine.